Christmas birds wishing peace and joy
It's time for peace and joy, It's Christmas time! Christmas birds wishing peace and joy. Couple of blue birds beautifully decorated. They are flying in front of each other while staring at you and wishing peace and joy in Christmas … Read More
$

2.0 –

$

15.0
Select license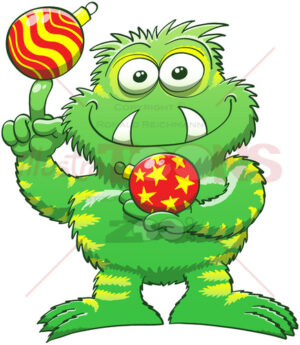 Christmas monster posing with Xmas baubles
Who said Christmas monster with a big smile and a nice green fur? Christmas monster. It shows sharp fangs, green fur, bulging tender eyes and yellow stripes while smiling, posing and showing beautiful Xmas baubles. Visit Zoo&co to see products … Read More
$

2.0 –

$

15.0
Select license
Halloween witch having a broomstick crash
Even the worst witches get trouble when trying to control their big powers! Halloween witch having a broomstick crash. Terrific witch with green skin, big nose, pointy ears and purple clothes while getting in trouble at the moment of falling … Read More
$

2.0 –

$

15.0
Select license
Halloween witch jumping and celebrating
Some witches get mad when Halloween is around the corner! Witch jumping and having fun. Red haired witch with big nose, pointy ears, green skin and purple dress and shoes while feeling full of energy and celebrating. She's grinning enthusiastically … Read More
$

2.0 –

$

15.0
Select license
Sale!
Christmas Santa Claus collection
Are you planning to give Santa Claus a hand at next Christmas? Nice Santa Claus collection. Cute stock images featuring the favorite character of children and adults in different funny poses and situations concerning Christmas.
$

12.0 –

$

90.0
Select license
Christmas frog jumping out of joy
A green frog joining the perfect Christmas celebration! Christmas frog jumping out of joy because Christmas is already here, wearing a red Santa hat and smiling generously while celebrating. Visit Zoo&co to see products with this Christmas Frog printed on
$

2.0 –

$

15.0
Select license
Green frog dancing to celebrate Christmas
Let's dance at Christmas! Cool green frog dancing, wearing a Santa hat and making a pirouette consisting on keeping balance by extending its arms while standing in a single leg, all of this because it is really happy celebrating Christmas.
$

2.0 –

$

15.0
Select license
Christmas witch smiling mischievously
This naughty witch found a way to sneak into Christmas celebration! Naughty Christmas witch with big nose, red hair, tiny mustache, pointy ears, green skin and one single tooth while wearing a big red Santa hat, clenching her eyes and … Read More
$

2.0 –

$

15.0
Select license
Worried Christmas snowman
Christmas can make you feel nervous Cute but worried Christmas snowman wearing red scarf and Santa hat while making a big effort to get noticed by rising a hand, stretching its mouth and expressing, by all means, how worried and … Read More
$

2.0 –

$

15.0
Select license
Christmas snowman sneezing violently
Even a brave snowman can get ill in cold Christmas and sneeze! Sneezing Christmas Snowman experiencing a bad flu because of the extreme cold. It is clenching its eyes, shivering and dripping snot while preparing to sneeze in a violent … Read More
$

2.0 –

$

15.0
Select license